Nathan Ford
We Donated £4000 to the Nathan Ford fund in 2022 thanks to you the athletes who entered our Charity Swim
We have known Nathan for some time now and he has raced at many of our events over the years often finishing on top of the Podium. He always supported our Charity Swim on the Friday evening of the Llanelli Multi-Sport Festival. This year every single penny raised from our Charity Swim will go towards Nathan's fund – that's £20 of your £20 entry fee. We have 300 medals that were ordered for the event in 2020 so we will be using them in 2022.
Following taken from Tri247.com – seemed to sum matters up better than I ever could. Full article can be found here – Tri247
In August last year the triathlon world received news that top Welsh Age-Group triathlete, Nathan Ford, had suffered life-changing injuries after an accident during the cycle leg at the British Middle Distance Triathlon Championships in Aberfeldy. The injuries suffered were severe, with Nathan's wife Catrin writing at the time:
"It appears that his brain injury isn't as severe as initially thought but his spinal injury is worse than we could have ever imagined. Currently Nathan is not able to breathe independently and is unable to move."
500 miles away from his home, Nathan was unable to be transferred back to Wales, such was the severity of the injuries incurred. There was a long road ahead for Nathan and his family.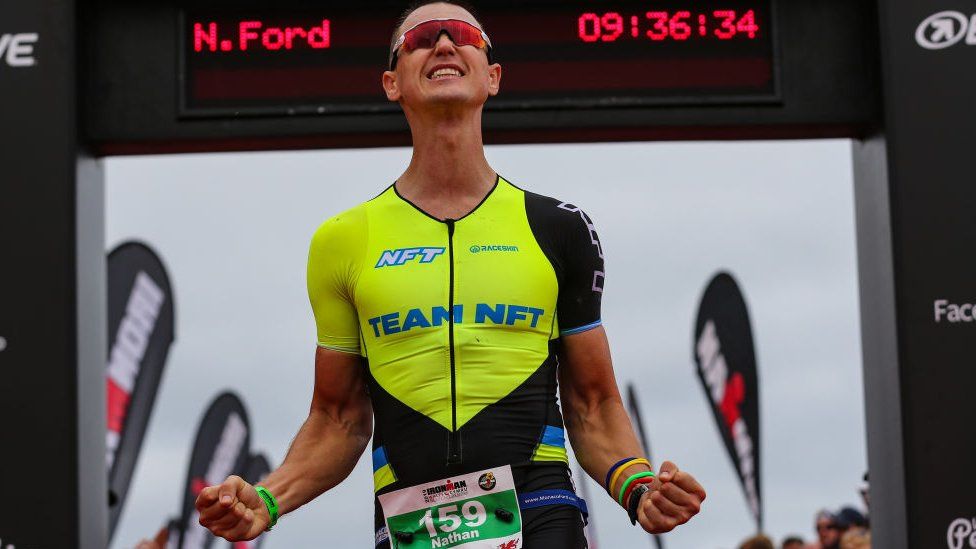 Progress
In more recent weeks, Nathan has been able to provide some updates from his hospital bed through his Instagram page, having finally been able to be transferred back to Cardiff via air ambulance.
That first update featured the 'halo' – all too familiar to Tim Don, among others – with a broken neck, just one of the many complications from the accident, along with a spinal cord injury. That halo was there for 14 weeks.
Support
As big as we sometimes think 'our' sport is, it's also a supportive and close-knit one. If you enjoyed the podcast and would like to support Nathan further, then I know that Mark would want nothing more than for you to donate a couple of pounds, if you are able, to help support Nathan and his family, in what will be a long, difficult and at times expensive journey towards making the best life from this challenging situation.
You can find the donation link below. Thank you.